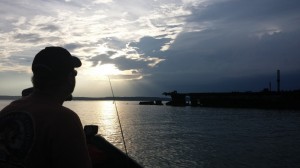 Southern Maryland Fly Fishing is a family owned and operated business conveniently located in Hughesville, Maryland. We are a fly fishing outfitter focused on providing the novice to experienced angler with the best information, products, and instruction available.
What We Do
Many people believe that fly fishing is an extremely expensive hobby and must be done in places with well stocked trout streams far from home in areas like Virginia, West Virginia, Pennsylvania or the western states. The idea of fly fishing local ponds and lakes around Southern Maryland for panfish and bass has not been very popular in the past, but is an up and coming outdoor activity and is a lot of fun for the entire family.
Lessons
At Southern Maryland Fly Fishing, you will get high quality lessons, from experienced fly fisherman, all at an affordable price. We will show you how to properly set-up a fly rod, tie the appropriate knots and flies, and cast with confidence. We will show you the proper way to land fish, such as bass, bluegill, trout and other fun fighting panfish. If you've always wanted to try fly fishing or just improve your casting skills while relaxing around a quiet lake, then southern Maryland fly fishing is just for you. We teach all ages of anglers from teens to seniors.
We offer our lessons at a convenient location in by one of the lakes, rivers, or ponds in the Charles, Calvert, or St. Mary's county area.
Schedule a lesson with Southern Maryland Fly fishing and get started on becoming one of those anglers you see in a peaceful outdoor setting enjoying the quiet serenity of a lake, pond or river with a fly rod in hand.
Products
We are continually adding new products to our online store. We spend hours sourcing the best products so you don't have too. We specialize in setting up beginners with rods, reels, and equipment that best suits their needs.
Thank you for visiting our website, and we hope we can serve all of your fly fishing needs. Tight lines!