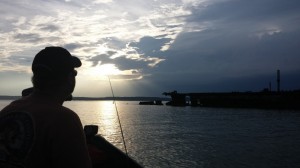 Fishing Report: Mallows Bay in Nanjemoy, MDThis weekend we fished the "largest shipwreck fleet in the western hemisphere". In the 1920's, over 200 poorly constructed WWI era ships were sunk in the bay off of the Potomac river in Charles C
ounty. The sunken ships have formed a man-made reef and over time has become a haven for many different species of wildlife.
The fish were very active, even as a severe thunderstorm rolled in and the wind picked up very quickly. The bluegill were holding in the grass near the far side of the bay, and near the every shipwreck we approached in our boat. Larger fish were feeding, but were nearly impossible to get to through the very heavy sea grass.
Mallows Bay is a very cool place that is definitely worth checking out. Southern Maryland Ants were once again very successful at inciting strikes from some nice sized fish. Early mornings and late in the evening continues to provide the best chance at catching fish.