May 11, Last Sunday at the lake was outstanding flyfishing for Bluegill, Bass and Redear Sunfish!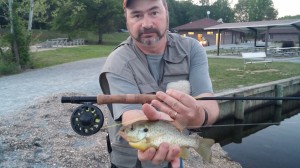 As activity was calming down from the day's events on the lake, we hit the water at about 7:00pm.  I was standing on the dam looking over the water's surface but  I didn't see any feeding activity…from any aquatic insects that is!  After a moment or two, we noticed a feeding frenzy going on hot and heavy over at the edge of the lake. After a short while It finally dawned on us, TIE ON TERRESTRIALS!  Shane and I pulled out the our well stocked arsenal of terrestrials and tied on an ant and inch worm. I must say we couldn't keep the Bass and Panfish off the flyrod. Folks, now is the time to fish and things are really heating-up in our local ponds and lakes. If you've never picked up a flyrod or if it's just been a while and you want to get back into the game, drop us a line and get out on the water for some great flyfishing action right here in Southern Maryland, you won't be sorry you did.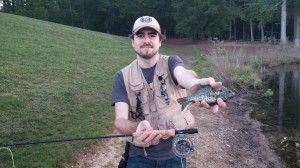 As Father's Day is approaching a gift card from Southern Maryland Flyfishing beats a new leaf blower or neck-tie for good old Dad any day! See our Father's Day Specials on the website.
Tight Lines,
Mike