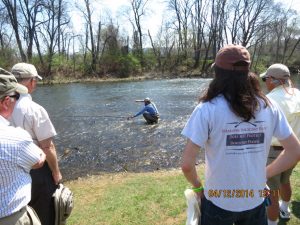 As the weather warms-up a little in our local ponds and lakes the Bluegills are becoming active, but seems like the bass are waiting for the water to become a tad bit warmer. Some Largemouths have been spotted near their beds along the water edge, but real good activity is yet to be reported. Warmer water will kick the fish into action, hopefully after this recent cold front moves out of the region.
On a good note, anyone who missed out on the 14th Annual Virginia Fly Fishing and Wine festival (http://www.vaflyfishingfestival.com/) held in Waynesboro, Virginia sure missed out on a great time. Shane and I were in attendance bright and early on Saturday morning. All of the greats were there as well, Bob Clouser, Beau Beasley, Fishy Fullum, and a host of many many more great flyfishers and  fly tier's.
Shane and I started off first thing in the morning meeting-up with Fishy Fullum and attended one of his classes. As you may know fishy is famous for tying his stick and peal and we had the opportunity to learn first-hand and I must say what a great guy and very talented in front of a vise and If you've ever picked up an issue of Fly Tyer magazine, you're undoubtedly familiar with Jay "Fishy" Fullum (www.fishyfullum.com). Fishy's column has graced the pages of that magazine and others for many years. His illustrations, artwork, and realistic patterns are breathtaking. Fishy is the author of several books on fly tying, and he never ceases to amaze his readers with new patterns. Fishy's terrestrial patters in particular look as though they might fly right off his tying bench. Thanks Fishy!!
In the big tent was some of the biggest names in the business, fly fishing guides, any kind of gear you can imagine was available for purchase. Good fun, great fishing demonstrations along the South River, great food and drink from the local vendors and to top it off, perfect weather!  I can't wait until next year!
Tight Lines,
Mike