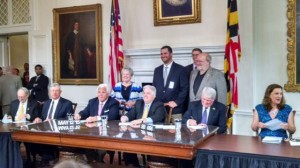 On May 12th, 2015, Governor Hogan signed a bill into law that changes the time from of Maryland fishing licenses. The way the current regulation sits, no matter what day a fishing license is purchased, it will expire on December 31st of the current year. However, effective October 1st of this year a fishing license purchase will be valid for a full 365  after the purchase date.
This is great news for those wait longer into the year to purchase fishing licenses. This gives all of us more days to fish with the purchase of our not-expensive fishing licenses.
This new law effects non-tidal, bay and sport (tidal), and bay and sport boat licenses.
"By giving anglers the added value and flexibility of choosing their annual license's start date we expect they'll spend more days on the water, which will benefit Maryland businesses associated with the sport fishing community, such as tackle shops and charter boats, as well as the food service, fuel and hotel industries," said DNR Secretary Mark Belton.
From the DNR press release: "Sport Fishing Advisory Commission Vice Chairman David Sikorski, who championed the legislation, said, "This is a win for the recreational fishing community. Maryland now joins a handful of states leading the movement to offer the increased value and flexibility of a 365-day license."
Read the press release at the Maryland DNR website at this link.
http://news.maryland.gov/dnr/2015/05/12/maryland-to-issue-365-day-recreational-fishing-licenses/
Thank you Maryland! Now what can you do for our Myrtle Grove WMA permit?